Appliance Recall
Since 1974, American citizens have been protected from dangerous items in their homes by federal law. Congress prescribed a system whereby if a manufacturer designed a dangerous product, they MUST recall all those items and FIX THEM FOR FREE! 

The problem in the law is that most often it's up to the consumer, to find out whether there is an appliances recall due to safety hazards! 

There is a database designed and managed by the government, but you would have to wade through 205 MILLION recalled items to find out if a dishwasher or air conditioner has an appliance recall and is a hazard to your family. 
CJR Inspections has located an excellent home inspection service that takes your appliance information and compares it against the US Consumer Products Safety Commission database and lets you know if your appliances have been recalled.  But it's not just a one time look.  They will send you monthly updates to let you know if your appliances have a new recall for as long as you own your house. And you can add appliances to your account at anytime.  
We have been so impressed by this feature that CJR Inspections now offers it as part of all of our home inspections at no extra charge to our clients.  
If you're not getting a home inspection from CJR Property Inspections, you can go through our portal (below) and you will get the CJR price of $19.50.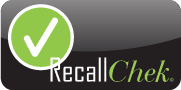 In addition to appliance recall information, this home inspection service is a great way for us to pass information along to you.  In the monthly updates from RecallChek, there is a section of the electronic newsletter where we send you maintenance minutes.  These are to remind you of simple maintenance items for your home.